-WEBINAR-
HOW TO PRODUCE HEALTHY CHICKEN MEAT AND EGGS BY APPLYING ALTERNATIVE PRACTICES AND MODERN GENETICS
Producing poultry products is something completely different than producing healthy and delicious poultry products.  However, a common denominator in these two topics is poultry genetic inheritance, their health and welfare level, and the poultry keepers' animal husbandry knowledge.  In general, the poultry industry applies production technologies that boost performance, such as improved genetics and breeding, it adopts the basic principles of animal welfare, and enhances alternative practices to tackle diseases, taking into account the stricter regulations regarding the use of antibiotics imposed by national governmental authorities. The use of herbs and plant additives in poultry diet, such as garlic, oregano, aniseed, and linseed, appears as the most widespread alternative solution for the industry.  However, recent research has focused on the use of other plants, such as beetroot, broccoli, either dried or fermented, aromatic plants, such as turmeric and ginger, as well as other practices, including the culture of probiotic bacteria or bacteriophages that are harmless to humans and to animals, but hostile to bacteria that cause animal diseases (e.g. Escerichia coli, Gram bacteria, and others).  This research is in early stages and more time is needed until its findings are determined as standardized practices in the industry.  However, the current research on this field is highly promising and it can lead to a transition from a consolidated production model to a new model that requires different infrastructures and a different type of management.
It is evident that there is an important opportunity for traditional domestic poultry breeders, professionals, and advanced and amateurs, as this productive model is more flexible than the industry's standard model.  Furthermore, knowledge of animal production science is mostly absent in the traditional productive models, since poultry keepers are basically successors of  an inherited productive model and practices derived from their family.
This webinar discusses issues of how to identify the appropriate breeding strategy for your farm; how to set and achieve performance objectives; how to produce added value products; and how to prevent or tackle the most common poultry diseases, by applying the best alternative practices, including the basic principles of genetics simplified to be applied by ordinary farmers.
discuss
When: July 30-31         
Where: On Zoom platform
Language: English
How can I participate?
Follow the instructions at the end of the page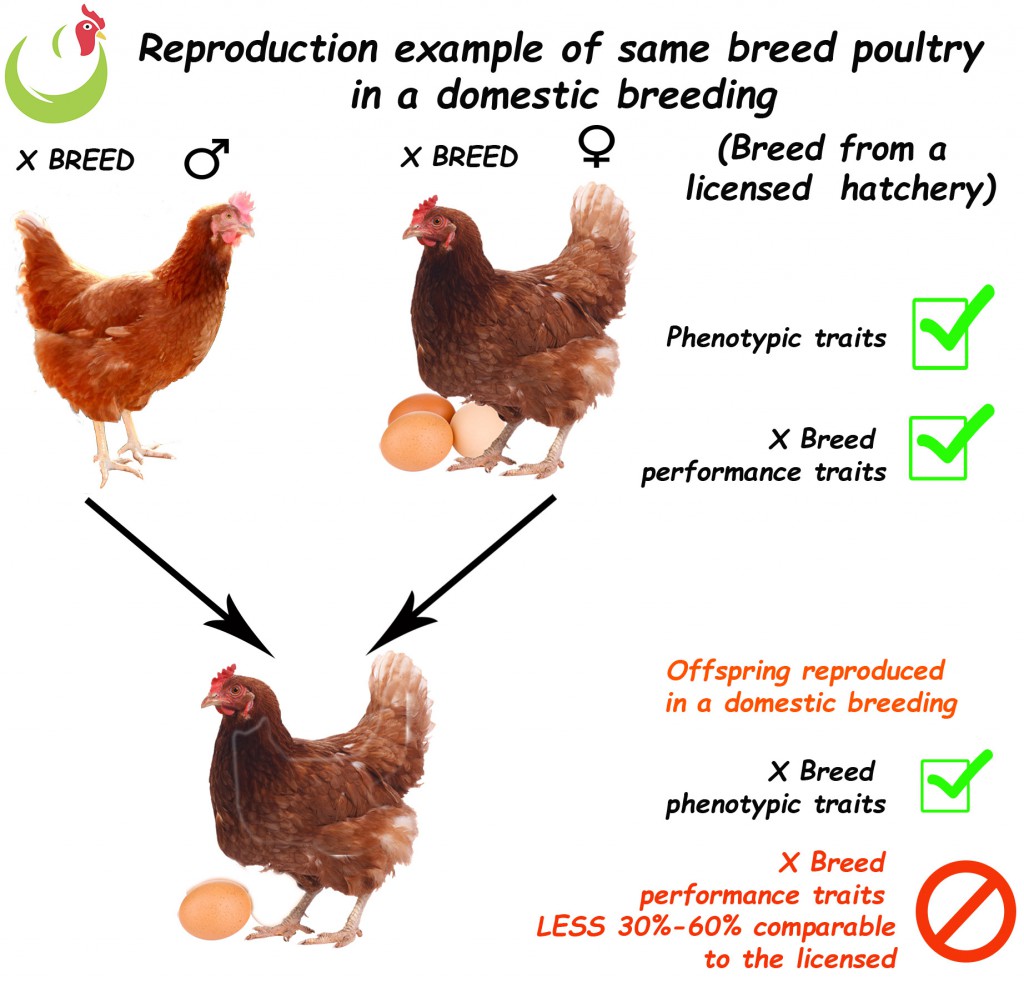 CHAPTER 1
                                       Livestock and Breeding Strategies
There are chickens designed for meat production (broilers) divided into fast- and slow-growing broilers and chickens designed for egg production (layers). There are two ways to obtain your poultry. Purchase from a commercial hatchery and through a domestic breeding reproduction, a practice which is more difficult to be followed, as it is perceived by rural households that apply domestic poultry farming.
Very often, parent animals genetically similar to each other are matting and their cross-fertilization results in offspring that have more genes in common causes inbreeding. As inbreeding increases, it is accompanied by fertility reduction, slowdown growth rates, insufficient immune system with greater susceptibility to disease, and higher mortality rates.
By ending Chapter 1 you will be able tο build a high-yielding breed by recognizing and applying  the poultry breeding strategies for genetic improvement or utilize the high yielding traits of the purchased broods.
                                       CHAPTER II
Vaccines and the importance of implementing
a vaccination programme
Vaccination is very important for the prevention and control of contagious poultry diseases and for this reason it is widely applied both by the poultry industry and by the conscious traditional alternative breeders.  Poultry breeders aim to avoid or minimize the emergence of clinical disease at the farm level, which results in increases in production.  Vaccines and vaccination programmes may vary depending on the type of production (meat or egg), the local patterns of diseases, and the national or local legislation regarding vaccination.  You may find these vaccines from a veterinarian, local stores with veterinary medicinal products, or even from a local pharmacy by pre-order.  By the end of Chapter 2, you will be able to increase your farm production by scheduling and applying your herd vaccination, in respect to the type of your production.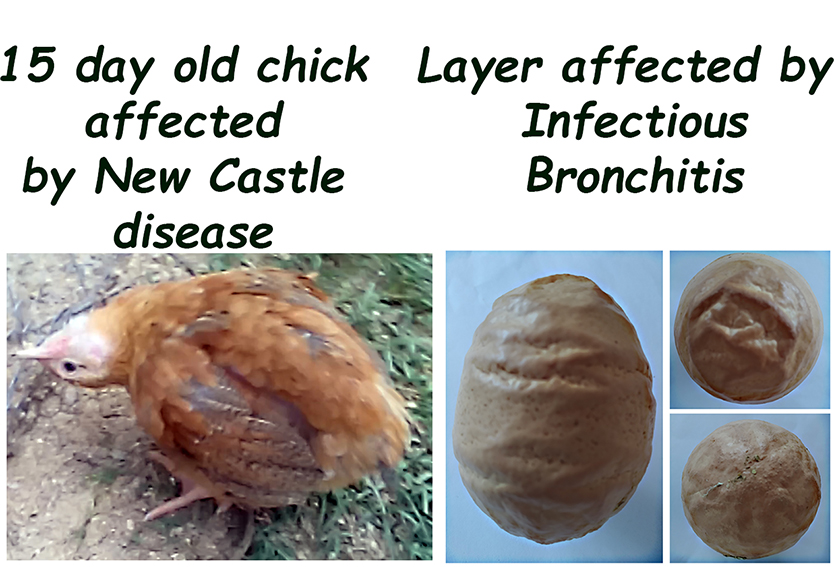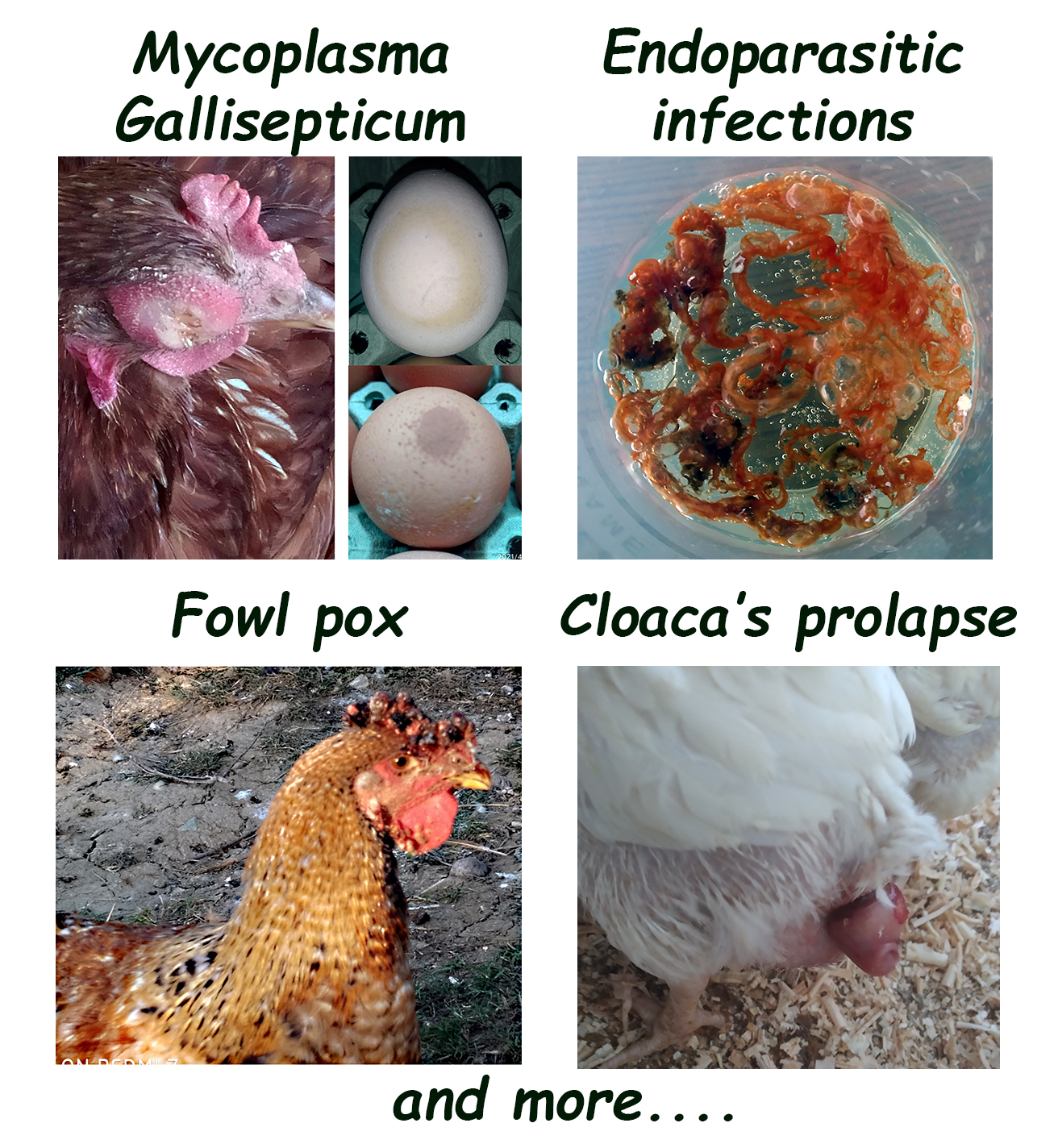 CHAPTER III
                     Factors affecting free-range poultry performance
Breeding poultry in an uncontrolled free-grazing environment is a challenge, because you need to control a variety of factors affecting poultries' health and welfare, and the performance of breeding, in terms of quantity and quality.
 By the end of Chapter III, you will be able to apply the best alternative practices, which will allow your poultry to strengthen their immune system and prevent the transmission of major contagious disease in your flock
                          CHAPTER IV
                     Setting basic qualitative and quantitative objectives
Once you decided to invest an amount of money and become a poultry keeper, you expect a demanded financial return on your investment.  Whateven your purpose is, either shelf-consumption of your own poultry products or selling them to customers, these products have a financial value and must compensate their production cost.  So, you must start thinking of your activity a little bit as a small farm business.  First, you need to have products in an appropriate quantity and distinguished quality that can keep viable your poultry farming project.
By ending Chapter 4, you will be able to set and reach the qualitative and quantitative objectives of your breeding and evaluate the daily course of returns.


HOW TO REGISTER IN THREE STEPS

STEP 1. Buy ONLY FROM AMAZON from your country  with your national currency the e-book «HOW TO PRODUCE HEALTHY CHICKEN MEAT AND EGGS BY APPLYING ALTERNATIVE  PRACTICES AND MODERN GENETICS». This is the webinar's cost.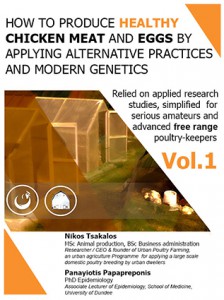 If you are not from one of these countries,you can buy the e-book from

>

US

$12.39

Amazon's market place and join the webinar.
STEP 2. PARTICIPANTS CAN CHOOSE ONE DAY BETWEEN 30 OR 31 JULY. Fill your personal data to our CONTACT FORM HERE to register , the day you choose to participate (30 or 31 July) and the E-book order number you received from Amazon (i.e  D01-XXX….) . The registered name who made the payment and the registered participant must be the same person.We will crosscheck the e-book purchase of each registered participant.
REGISTRATION ENDS ON JULY 28th
STEP 3. Get in your email  the link and the password and confirm to join the webinar.
After the end of the webinar, send us your questions about the thematic topics and your feedback.
IMPORTANT NOTICE
DUE TO THE TIME ZONES DIFFERENCE PER REGION, PARTICIPANTS WILL BE SEPARATED INTO GROUPS PER REGION AND THE TIME SLOTS WILL BE ANNOUNCED ON JULY 28.